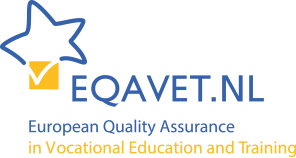 About EQAVET
The National Coordination Point EQAVET (NCP EQAVET) is committed to working on and ensuring educational quality in Dutch upper secondary vocational education (MBO). We are the link between European policy developments, national policy and the way things are done in the Dutch upper secondary vocational education sector. In addition, EQAVET is a European reference framework for quality assurance.
Among other things, we perform the important task of bringing together, informing and activating the various stakeholders. The focus is on strengthening the quality in teams of teachers and promoting a culture of quality within teams and at the school. EQAVET brings together all the existing initiatives relating to quality development and quality assurance, allowing these to complement and strengthen each other.
Contact
If you are interested and want to know more about de work of the NCP EQAVET you can contact: Daisy Termorshuizen, +31 6-51670203, dtermorshuizen@cinop.nl.
Some of our activities
Background information
Disclaimer
This website has been funded with support from the European Commission. The Commission cannot be held responsible for any use which may be made of the information contained therein.